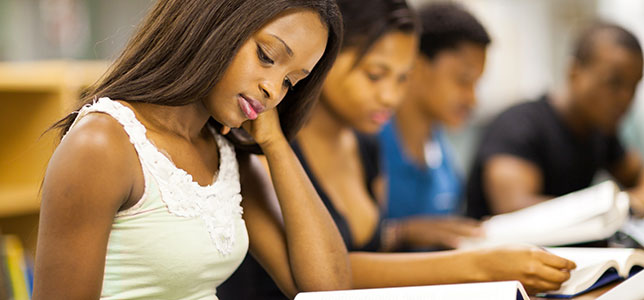 Sly was the head of the Journalism Club in Matiba University of Science & Technology (MUST) in as much as she was studying Computer Science together with Njagi. Her parents made her not follow her writing journey as they imagined journalism was not a well-paying job. Beyond that, they presumed it would have been tough for their daughter to get a job and plus it didn't appear so much of a white-collar career, according to them. I wish they realized how much formidable the writing industry has grown. From the demand in the editorial departments in the sprouting media houses and the international market that has a lot of online jobs for outsourced writers, to the improved reading culture across the globe, writing jobs have never been this lucrative. Nevertheless, Sly was running her blog and still making money from ads running on her site while still keeping her parents happy with her school course. You could call it killing two birds with one stone.
The school didn't have a school magazine and that bothered her so much. She always visualized that idea in her mind until one day she grew enough guts to go pitch it to the Dean of Students. She consulted Njagi on the same and he equally upheld it and in fact accompanied her to the dean. She secured an audience with Mr. Ngamau the dean of students on a hot and lazy Friday afternoon. Mr. Ngamau was a short man by any standards and seemingly, a well-functioning alcoholic. He had this patched forest of beards all over his face that seemed to lack nutrients to grow steadily, evenly and not appear neglected. That notwithstanding, he was a very brilliant guy and way passionate on students' welfare. He was a man who'd listen keenly when you conversed with him and not rudely interject while admiring his fat, flowery tie like some people in high offices do.
Hi Sly, what's your friend's name.
He is Njagi.
Ooh great. So, you told me you have something you want us to discuss. Makes himself comfortable slanting his chair at an angle he'd give 100% attention.
Yea Mwalimu. It's about the school magazine.
His face lights up.
I was proposing, with your support we can have the journalism club kick-start a school magazine and be running it while the management helps us with finances as start-up capital until the business breaks even.
Now Sly, how will the school gain from a students magazine?
You see Mr. Ngamau, this is an identity thing. It will boost the enthusiasm the students have with the school besides being the reference point for all matters school events. It will spot talents and expose them to a bigger audience for nurturing purpose. The revenue will sustain the journalism club and give them firsthand experience before they move on to the job market in addition to enabling the institution have a platform to market its products. More importantly, the magazine will go along way in fostering a cultured heritage for the school apart from enriching the bond between the management and the student fraternity.
Sly would listen to her convincing tone in the background and ride on the soft spot Mr.Ngamau has no her and cross her fingers.
Mr.Ngamau promises to forward the idea to the school management board and revert in a month's time or so.
Meanwhile, an optimistic Sly mobilizes her team even before an approval by the school management is arrived at on publishing and running the magazine.
A month later…
The decision is upheld and the management sets aside some funds to launch Sly's brainchild.
On receiving the news, she convenes a special meeting whereby the members resolve to have a division of roles as follows;
One team headed by Sue would market the school magazine idea to most if not all students by preparing brochures and distributing them across all the public outlets be it the hostels, dining area, canteen, school library, indoor sports hall, social hall, gym training area, lecture halls and virtually anywhere where one could find students holed.
It was a very rigorous idea but Sue was up to it. She was heading a very big team of about 50, mopping the entire campus with leaflets highlighting in brief, the school mag idea and requesting interested persons to volunteer items they would wish featured in the magazine from poetry, creative writing, photography, cartoonist, relationship stuff, motivational articles and upcoming events. There were directions on all collection centers and formalities of application.
Sue was chosen since she had and an easy and likable character. She was also a hands-on person apart from being super efficient in her tasks. Better put, she was the club's stalwart. Her dressing code was a tomboy look – long basketball vests, sweatpants, fancy caps and headphones. Plus she was such a rubber shoe fanatic while her barber brought out his A game in making her short haircut, appear edgy.
Jay was the chair of the main collection center which was at the journalism club office donated by the school dean. Here, he'd oversee the collection of all items the students would propose to be featured, evaluate them, come up with ways of improving the potential ones, drop the not so promising and have the best embraced by his team. Depending on how thorough his team evaluated items proposed and polished them, would determine the fate of the magazine.
Abigail would co-chair the Editorial department together with Sly. They would hold the last word on what would be published and what wouldn't. Additionally, they would scrutinize accuracy and authenticity of all items in the mag including ensuring matters ethics were adhered to. The magazine would be published in less than a fortnight and consequently run monthly.
Subsequently, Njagi and his team would take on graphics where he was a passionate pundit and clearly had the skills at his fingertips. He'd lead the team that would give the magazine life – a friendly demeanor, a youthful character, a trendy feel, bones to catwalk on everybody's lips and dominate every chitchat, and give it wings to dart in every public space in the school. The task was daunting and the cover page hard to crack and decide on.
Jared would man the IT department ensuring all the records were safe and intact, the back up was well monitored, the computers were efficient, the internet was super-fast and the servers had enough firewalls and in good shape.
Kevoo would govern the Procurement Department especially on appointing the best printing service company in town and also mandated in scrutinizing the quality of the paper. It's a mag remember.
There was a major event happening in two weeks time in the school, running an entire week. What a better coincidence than to launch the magazine then! The stage was set, anticipation was building and so was pressure to Sly and her team.
Would she deliver on her brainchild and offer justice to Mr. Ngamau and the management for all the monies pumped to her project? Only time would tell.
Next on Platte-Land series: Cultural Week
Photo Credit: Campustechnology.com